What our customers treasure in us in particular:
When we talk with our customers about transports to and from France – which we do quite often and which we are glad to do – there are a few core issues that are particularly interesting from their perspective and define the quality of their cooperation with us. Interested? Then please read on:

Who we are
Successful companies are a question of personality. Our customers do not produce any run-of-the-mill standard products but rather are very proud of what they produce and sell ...
and that is by no means merely a question of money. It is exactly the same way with us. We are run by entrepreneurs and independent. Our company specialises in France and provides tailored services. Nothing would be worse for us than to degenerate into standard products.
Our work is fun for us. And our name makes us proud and shapes our attitude. In contrast to major logistics corporations, as a conventional medium-sized enterprise we still feel a personal obligation to the customer. Our customers know and value this because it is of decisive importance to you to receive your goods at the location you have specified punctually, reliably and at a good price. We take this requirement very personally!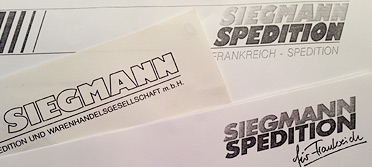 History
Why we have lasted so long. Have you ever tried to reach Mr Kühne directly on the phone? You can reach Mr Siegmann quite easily by calling the Hamburg number 25 15 35 73...
And here's the crazy thing: He will actually speak directly with his customers!
That is because the history of our freight forwarding company is actually the history of our personally supported and satisfied customers. Some have been using our services for nearly 40 years, are paying for our services and are thereby securing our future. We would like to take this opportunity to express our deepest thanks for this.

Call the number above to receive an attractive offer for your future logistics services. Mr Siegmann looks forward to hearing from you.

But now for a brief overview of our history:
The time spent in Marseille as a young man working for a few years as a trainee for a French shipping agency was a very formative period for Jörn Siegmann and his fascination with France has not left him since. The port of Marseille, founded in the Middle Ages, was still heavily affected by trade with the French colonies in the 1960s; the proximity to Maghreb could be felt tingling in every corner just as today.
Hamburg traditionally has very close economic relations with France that stretch back to the Middle Ages and were regulated and secured early on through trade agreements in the years 1655 and 1716. As a native of Hamburg it only seemed natural after many years abroad to found the company Siegmann Int. Spedition GmbH in the Hanseatic city in 1979. Even today the large number of connections of local companies in Hamburg to France underscores the close connection between these regions and reflects the great importance of France to business in Hamburg.
P.S. By the way, France is Hamburg's most important trade partner, even ahead of China, the Netherlands, the USA and the United Kingdom.
(Source: Hamburg Chamber of Commerce)
Vision
What we believe. We believe: It only makes sense to have a vision if it creates very real benefits in logistics each and every day! ...
That is why we have the 10 Siegmann Laws:
If we accept an order then we know how to successfully carry it out – guaranteed!
If we carry out an order then the customer knows that he or she can rely on us – one hundred percent.
The customer is always right. Period.
A debt paid is a friend kept.
Problems are for therapists. Our customers have a right to solutions.
We still listen to the customer. Seriously.
Those with high demands are in the right place with us. Those who merely seek the lowest price should try asking the grocer's son if he could just drive something over to France for them...
Those who would like to do business in France have to understand the French. And not just their language.
Our employees like to laugh. We believe that a good mood increases productivity.
We hope that our customers will be happy with us - and that we will be with them.
Ecology
Logistics and ecology together? Believe it! Admittedly, the transport of goods is tied to emissions...
But naturally a few things can be done in order to not place excessive burden on our Mother Earth. There's no use writing flowery prose about sustainability. Instead, it is important to implement simple and logical things in our everyday activities with vehicles. These range from biodegradable greases to perfectly planned routes so that empty trips can be avoided. We will be happy to explain to you all of the other ways in which we work to keep our carbon footprint as small as possible in a personal discussion.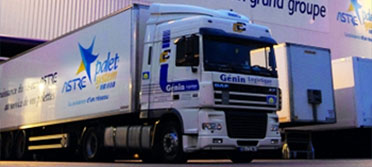 Partners
Without partners you're pretty much all alone. Particularly in France. Those who would like to be 'en route' in France would do well to form ties ...
with strong regional partners and not with some multinational corporation or other. We are a proud partner of the French Astre Group – a group of over 300 carriers who are the driving force in the freight forwarding business in France. The advantage of working with such a group is inestimable when it comes to fast, flexible or difficult transport. We have also developed strong alliances worldwide that ensure a decisive competitive advantage for our customers. Just as is usual among true partners.